"...my daughter loves it so much she only wants to use this brush now."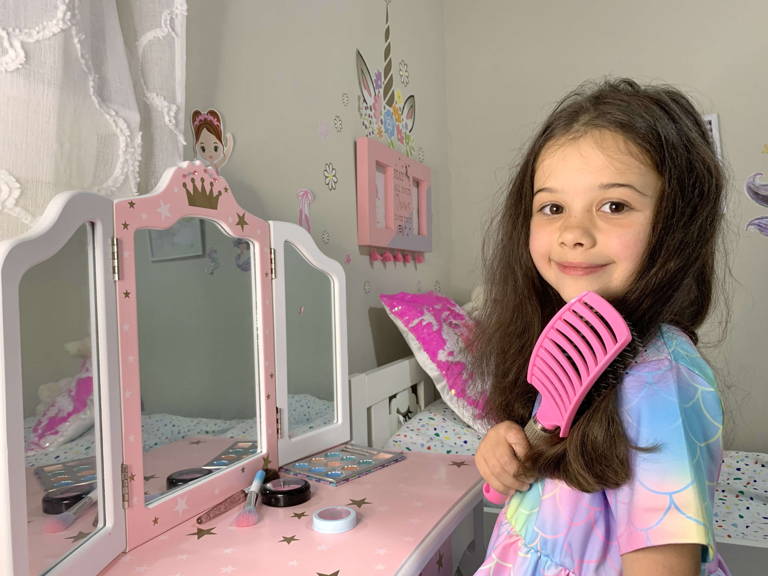 This award winning Boar Bristle Hair Brush detangles every type of hair pain-free. Tired of tears and screams when brushing your daughter's hair? This hair brush is the secret to tear-free hair brushing. Stop wasting time and money on detangling sprays and hair brushes that just don't work. Works with every type of hair - men, boys and adult women will love it too!
Hairstreaq Detangling Brush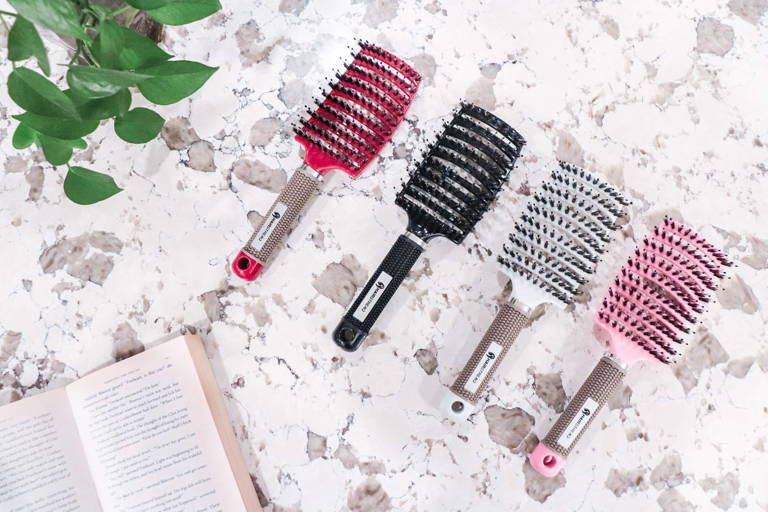 Pain-Free Detangling Guarantee: The bristles & nylon pins help detangle every type of hair.

Vented For Blow Drying: This brush is vented for faster drying with a blow dryer.

Curved & Oversized Head: This hair brush has a large head with a curved shape that allow optimum contact points and angles with the scalp.

5-in-1: This hair brush incorporates 5 different styles of brushes into 1: A paddle brush, a comb, boar bristles, long vent nylon brush pins and a wide comb!

Ships from our warehouse in Salt Lake City, UT
100% No-Risk Money Back Guarantee
Handcrafted and Built to last


Handcrafted and Built to last

FREQUENTLY ASKED QUESTIONS
We ship via USPS or UPS from our warehouse in Salt Lake City, UT.
How long does shipping take?
Orders placed before 5 PM EST on weekdays are shipped out on the same day, orders placed later will be shipped out on the next business day (business days are Mon-Fri), and take 1-5 days to arrive, depending on your distance from our warehouse in Salt Lake City, UT. Shipments to Hawaii, Alaska and US territories or Military Bases can take longer.
Does this work with curly hair?
Yes! Be it curly or straight hair - we guarantee that this brush detangles every type of hair pain-free.
Does this work on wet hair?
Sure, it works just as well with wet hair as it works with dry hair!
Will this brush work on boys/men too?
Yes! We had several moms buy this for their son and they reported that it worked great for them!
How does this compare to other hair brushes?
You'll often see hair brushes for specific types of hair, our brush can be used on any type of hair. We use a combination of nylon pins and boar bristles to detangle hair without pulling, most other brushes only have either nylon pins or boar bristles, and they are harder (and therefore more painful) than ours is.
Does this work on afro hair?
We've had great feedback from a diverse range of customers, including those with afro hair! We guarantee that our brush detangles every type of hair (money back guarantee if it doesn't work for you!).
Is this brush suitable for sensory sensitive children/children with autism?
A number of our customers have children with autism and they report that it works great for them.
How do I order multiple colors in a bundle?
Choose your color combination in the dropdown menu below "Choose your color". Alternatively, add a single unit individually of each color to your cart, the quantity discount will be automatically added to your cart (you might need to refresh the cart page to see the discount). If you have any problems ordering multiple colors, email our support team at support@hairstreaq.com
Does this work on pets too?
Sure! We've had several customers who bought our product and reported that it works well on their pet (including dogs, cats and horses).
Why is your brush more expensive than the cheap brushes I can pick up at the supermarket etc.?
1. You can find cheap brushes that cost next to nothing, they pull & rip out hair and don't solve the problem of brushing. You can spend anywhere from $1 - $20 each on these brushes and the problem is, they just dont work and you stop using them. So if you look in your bottom drawer in the bathroom, and add up all the money you've wasted on stupid brushes, we estimate on average most households will have spent $50-$150 combined on them. So in the long run, our brush is actually CHEAPER and EASIER than all of that expense, shopping, drama and unnecessary WASTE.
2. The second reason we have the price set where it is is because we are investing a LOT of resources into research and development to perfect the brushes and expand the range. We started this business with a massive vision - Changing the lives of millions of families. That takes something and investment is part of it. This business is solely funded by the cashflow of the business and its founder and is completely independent from any chain or conglomerate of businesses.
3. We wanted to offer a beneficial price point to Salons and Stockists. You probably dont know this, but Salon owners get screwed daily by suppliers and they are told how much they have to buy and are crippled by cashflow to have all the products they need hoping they get a steady supply of customers to pay for it all. Its not a healthy relationship and we wanted to be able to have the local salons have choice and freedom to have a product that works in their business on their terms. You see we want their business to thrive and with our price point, and exclusivity, the salon owner is genuinely HAPPY.
So, we look at the big picture and long term positioning of our brushes and their placement in the market. We are planning to be here for the next 20 years minimum to have the next 2 generations of children and their parents never ever experience trauma and tears with brushing hair. You are part of that mission when you buy one of our brushes. Imagine a world where smacks with hair brushes, screaming from brushing and a brush damaging hair never even occurred anymore? Well, the team won't rest until that's a reality.
Which payment methods do you offer?
Paypal, Credit Cards(American Express, Visa, Mastercard), Apple Pay, Google Pay and Shop Pay.
"It's a MIRACLE!"
Those were my best friend's exact words. I bought two of the brushes, though I was a bit skeptical, and kept one. I gifted the other to my friend, because she's shared the nightmare involved in combing her 8-year-old daughter's hair. She said, "Usually, it's a 35-40 minute battle after her shower to get her hair unsnarled. Tonight, it took only about 10 strokes of the brush, and we were FINISHED. No tears, no hollering. Just done!" She quoted my goddaughter as saying, "Where has this been the last eight years of my life???"
I love it, too--and I feel like it pulls out FAR less hair than any other brush or comb I have EVER used! Thank you for a miraculous product!
Literally never write reviews….
But I've tried every brush on my daughter, who cries and screams at me when I brush out her thick, chlorine damaged hair. This thing is amazing. Full stop. Ordering more.
These two just had a sleepover and came upstairs with the most matted hair. They filmed this review and brushed each other out with ease.
Amazing brush
Bought six brushes for a Christmas gift and my nieces love the brush. They started brushing their hair and it gets the hair so straight and I don't see any static either.
Definitely recommend it for someone who doesn't like brushing because of the pain of brushing.
Game Changer!
This brush is a game changer! I bought it for my 3 year old daughter who has the snarliest most ratted mess after sleeping or showering. Normally we have to douse her hair with detangler before starting the brushing battle but not with this brush! NO DETANGLER NEEDED! No screaming, no tears, no pulling her head away. I tell you, it's amazing! I immediately sent a picture of it and the shopping link to all my friends/family members who are girl moms! It's a must have!!
Best Brush Ever
My sister told me about this brush . I didn't believe her . We recently vacationed together & she had the brush with her & omg this is definitely the holy grail of all brushes . The WET detangling brushes have nothing on this brush . My 5 year old didn't cry once when I used this on her hair . She even used it herself . I also usually dread detangling my hair and this brush glided through my hair without any pain ! When I got home I ordered the 3 pack . I can finally detangle my little ones hair before school without a fight ! I'm super grateful for this brush 😅